By UnblockTechTVBox |
11
January 2022 |
0
Comments
What is the latest Unblock TV box model? Unblock Tech UBOX 9 review
What is the latest Unblock TV box model?
At the end of 2021, Unblock Tech brought you the latest model -
Unblock Ubox9
.




How much does the
Unblock Tech UBOX 9
cost? Is it worth playing games or watching TV shows?
The Unblock Tech UBOX 9 now features a high-end H616 quad-core ARM Cortex-A53 CPU with a dedicated Mali-G31 6-core GPU, as well as 4GB DDR3 RAM and 64GB flash memory. It works great and the response time is much faster than the old version. Out of the box, it is very easy to set up and use.

Discover the details in the Unblock Tech UBOX 9 review.

Consumer reviews are supported by their audience. This website contains paid links. As a member, we profit from qualifying purchases.

Inside the box
Unlock TV Box UBOX 9×1
Remote control × 1
HDMI cable × 1
User Manual × 1
International adapter (DC 5V/1.5A) × 1
advantage disadvantage
advantage

better memory and storage
H616 quad-core processor
faster response time
voice remote control
shortcoming

Instructions in limited languages
Specifications – Unblock Tech UBOX 9
Product size: 110MM*110MM*18.5MM
Large memory: 4G+64G capacity
Chipset: H616 Quad Core ARM Cortex-A53
CPU: H616 quad-core ARM
GPU: Mail-G31
6K HDR: Sharper picture quality
Memory: DDR3 4GB
OS: Android 10.0
Language: Chinese, English (multi-language support)
AI voice system: Support search, playback control and other functions.
Dual-band WIFI: 2.4G+5G dual-band WIFI
200+ CDN nodes worldwide: This makes our devices faster and more stable.
Network: Support 802.11 B/G/N/AC wireless protocol 2.4G+5G
Remote control: intelligent AI voice remote control
Nand Flash Nand: 64GB EMMC
Storage expansion support: MicroSD (TF), up to 32GB MicroSD (TF)
Power supply: DC 5V/1.5A
Bluetooth: Bluetooth 5.0 Bluetooth 5.0
Unblock UBOX 9
Review
Build
It is made of ABS plastic and has a rectangular design. It has a matte white color. In the middle, there are slender LED indicators that surround the box.

Design
The Unblock Tech UBOX 9 measures 4.33 x 4.33 x 0.72 inches and weighs approximately 1.25 pounds. Its hardware type is Linux, its memory type is DDR3 SDRAM, and it has an NVIDIA processor. It runs on the latest Android version.

Ports – Unblock Tech UBOX 9
It comes with an HDMI out port that allows you to connect 4K or 6K SMRT TV content. It has a USB port, you can use it for a wireless mouse or keyboard or connect a USB drive. For high-end gaming, it also comes with a 3.5mm headphone jack.

HDMI output HDMI: 1 × HDMI2.0
USB Ports USB: 2 × USB 2.0
AV output: 1 x 3.5mm headphone jack
1×3.5mm

Network: 1×RJ45 LAN port
1 × RJ45 LAN

Power: 1 x DC jack
Card Reader: 1 × MicroSD(TF) slot
Antenna: Built-in WiFi antenna
Wi-Fi: Support 802.11 b/g/n wireless protocol 2.4G+5G
Wired network: 10M/100M Base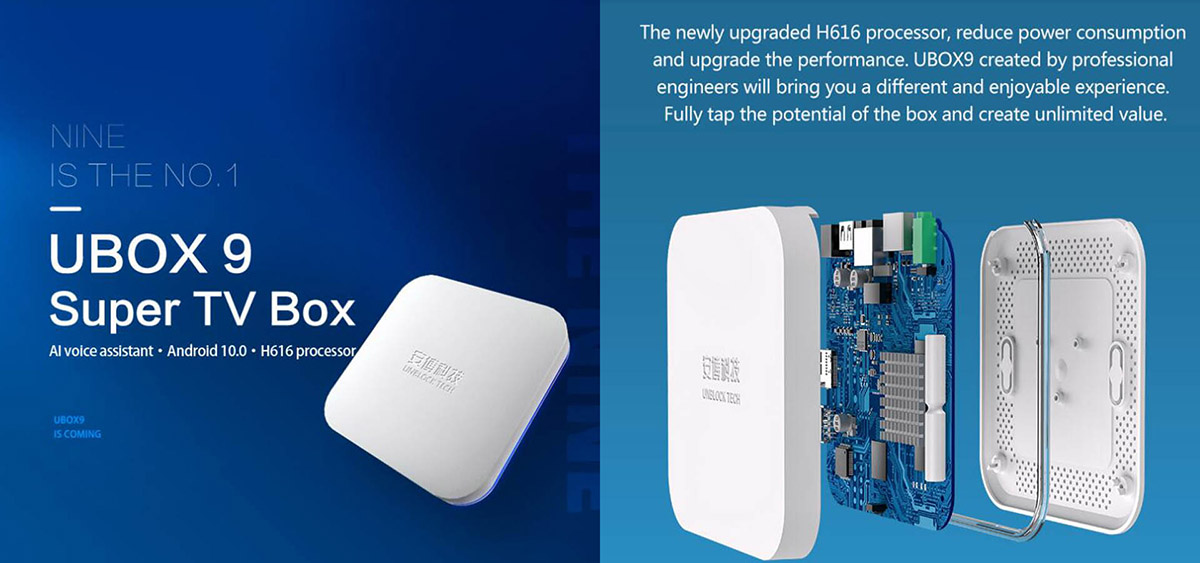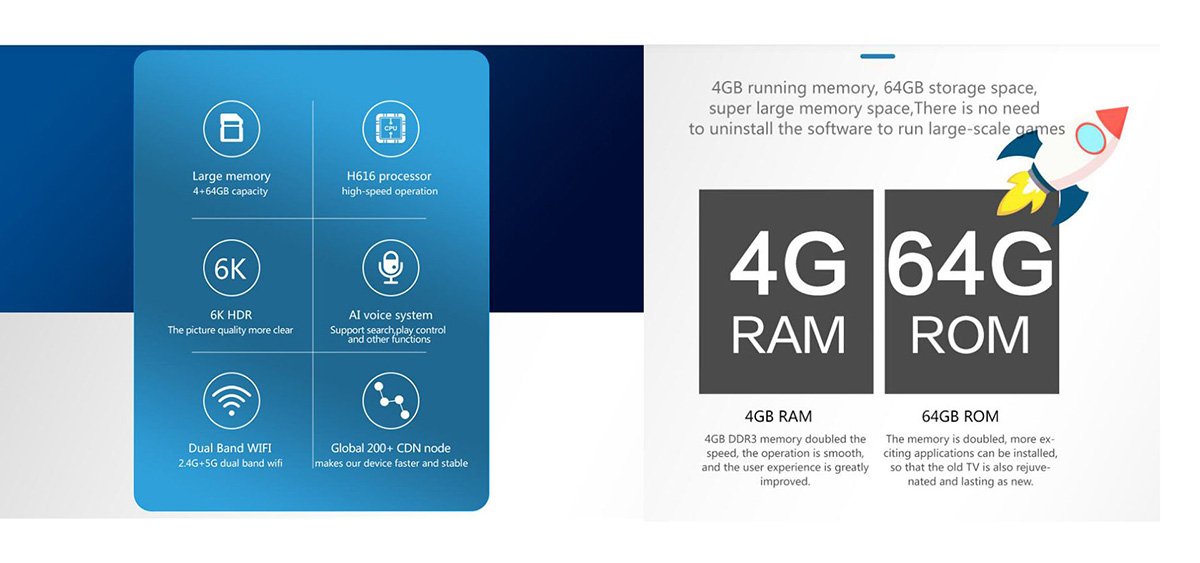 Upgrade the processor
It comes with a faster H616 processor. The upgrade of the processor enhances its performance. It reduces power consumption. Unblock Tech UBOX 9 has a group of professional engineers who provide users with a different and pleasant experience, that's why the interface is user-friendly.

Memory and storage
Social life is full of memories, eventful movies and live TV shows. Unblock Tech UBOX 9 has
4GB of RAM and 64GB of storage back up this. You probably know that most high-end (including iPhone) smartphones have 4GB RAM, and this Unblock Tech UBOX 9 has it, and it's worth connecting your phone with this box.

6K HDR images
Unblock UBOX 9 Pro Max TV box supports 6K ultra-clear video decoding, adopts a new generation of intelligent color 3.3 picture quality engine, the picture quality is clearer, and the picture is more vivid and smooth.

Global CDN Nodes
Full coverage of global CDN nodes to accelerate Global coverage of 15 countries and regions,
More than 200 CDN nodes continue to accelerate. 10 data centers, 30+ countries and regions, 200+ CDN nodes

Family KTV - you can sing
UNBLOCK UBOX 9 supports you to sing at home. Friends gathering, family entertainment is happier and more fun.

Screen Sharing – Unblock Tech UBOX 9
Turn your phone into a remote control. All you need to do is install Ubox 9 PRO MAX with your HDMI TV or computer screen (speaker output required), and in a stable Wi-Fi environment, you can register an account on your mobile device to control the box, allowing you to control the box at any time Watch your favorite TV shows anywhere, even when you're abroad.

3 easy setup steps:

1. Connect UBox 9 to TV
2. Connect UBox 9 to Wi-Fi
3. Start streaming

WiFi connection
The newly upgraded 5GHz 802.11ac dual-band Wi-Fi module provides the fastest transaction speed and the most stable signal, meeting the needs of high-definition video and large file transmission, and providing high-quality and smooth images.

In addition, it can achieve ultra-long distance connections and is compatible with various Bluetooth devices with Bluetooth 5.0 technology.

Streaming in Unblock Tech UBOX 9
Just choose UNBLOCK and you'll find a huge selection of TV channels from the UK, US, Canada, Southeast Asia, including Hong Kong, Taiwan, most of China, Japan, Singapore, and more. We also have a ton of shows and movies. There are live broadcasts, movies, episodes, and basic functions are specified.

More than 700 channels from all over the world are waiting for you to discover, including mainland China, Hong Kong and Taiwan. From variety shows to documentaries, you can always find something you like.

TV Channels - 1800+
Sports – 39+ channels
Documentary – 45+ Channels
Cartoon - 39+ Channels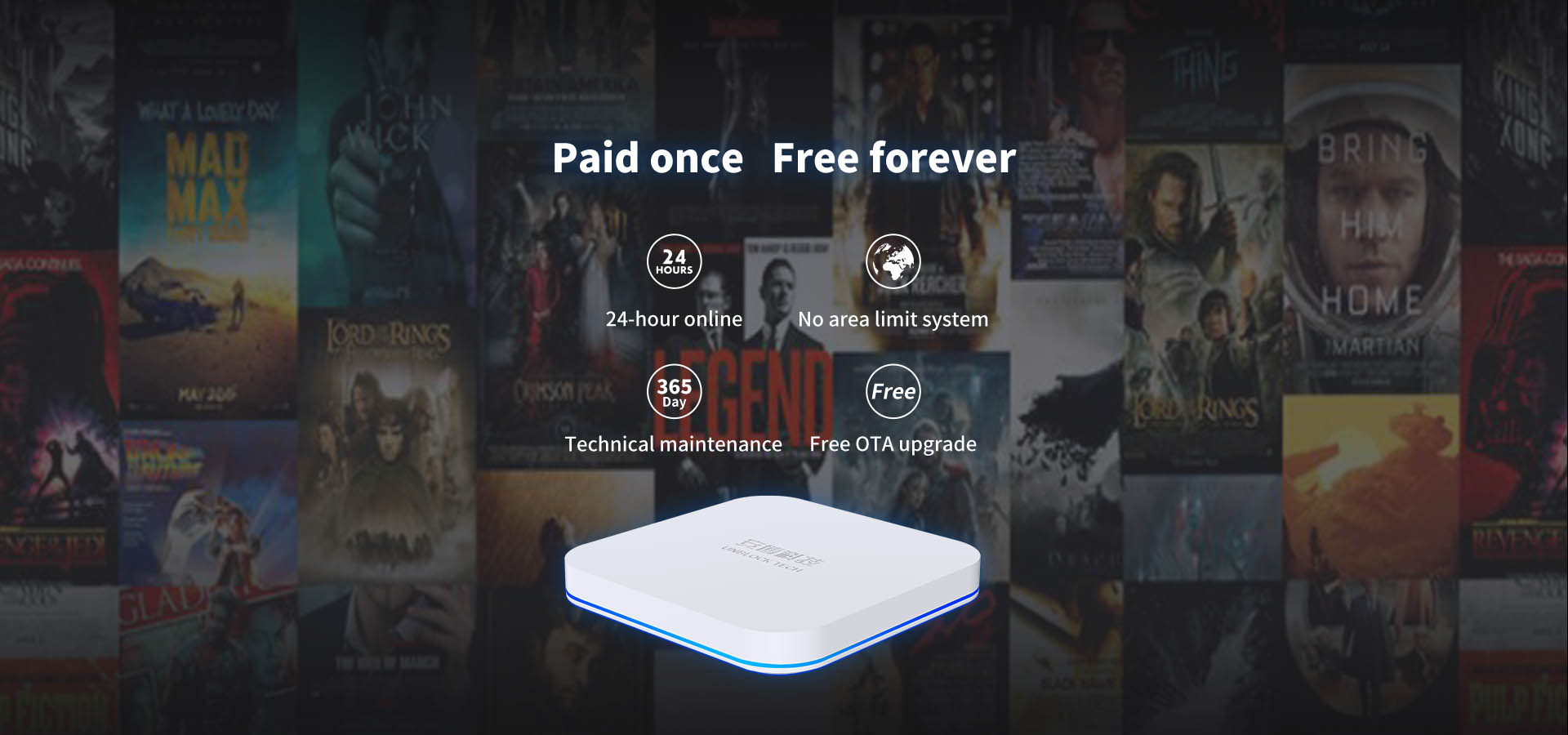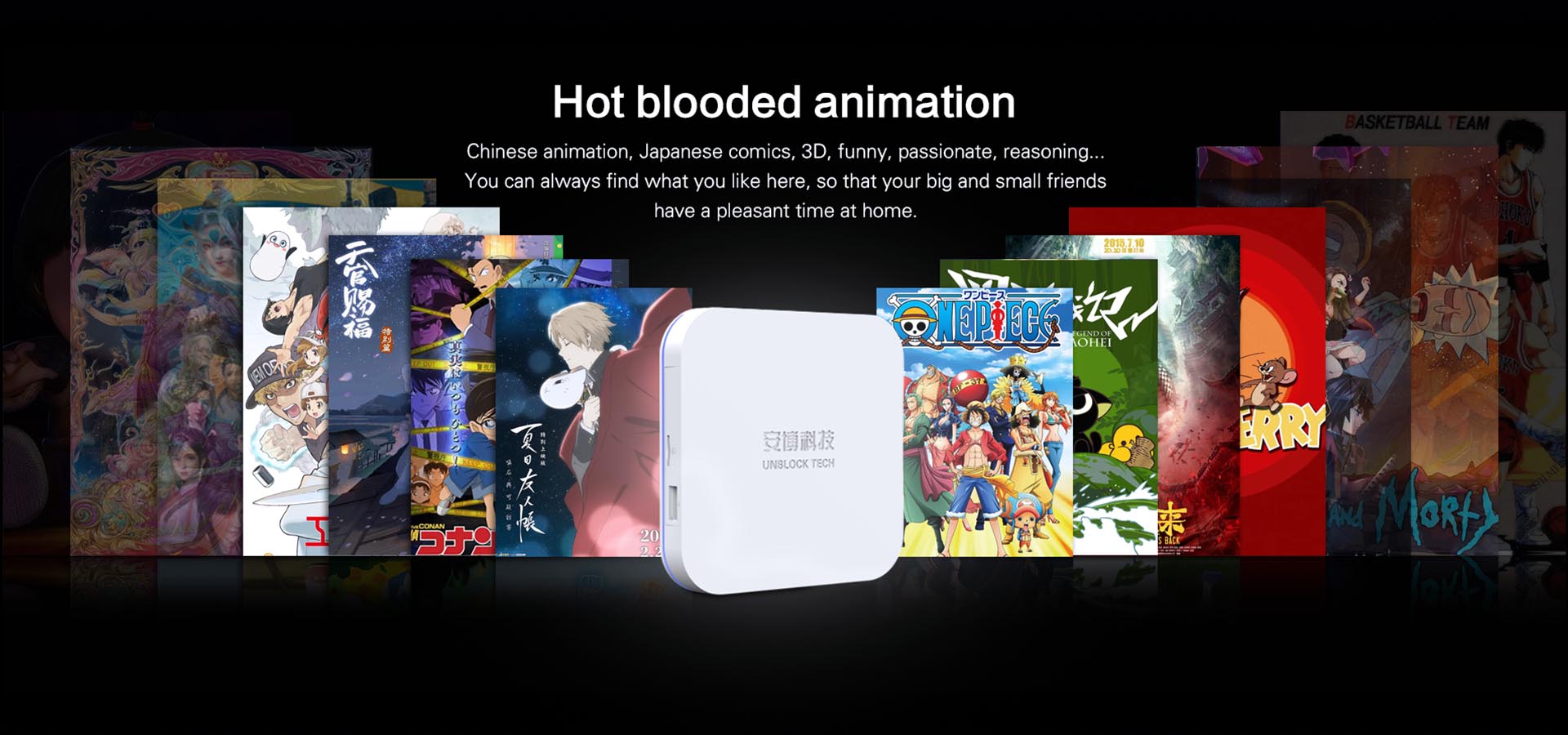 Playback
Always missing your favorite TV shows on traditional TV for various reasons? Starting today,
UBOX9
9's 24-hour playback feature lets you enjoy your favorite shows anytime, anywhere. Instead of rushing to catch up on everything, you can now replay any great shows and shows you missed in your spare time!